- 1996 Sportsperson of the Year -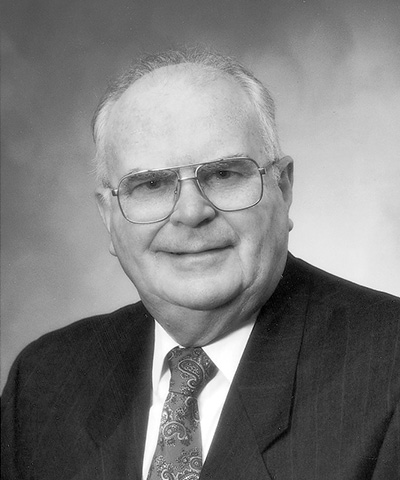 "To try to run the program like a ski school and to provide the volunteers the satisfaction of teaching while improving along with the students."
That's the philosophy of the Calgary Booster Club's 43rd Sportsperson of the Year, Ted Rhodes.
Rhodes, 70, has been the driving force behind the formation and the subsequent success of disabled skiing programs not only locally, but nationally and internationally as well.
Born in Princeton, B.C., Ted got involved in skiing as a youngster and has maintained his love of the sport throughout his entire life. In 1942 he won the Western Canadian Downhill Race. In 1968 the latest Sportsperson moved to Calgary and almost immediately began teaching his first disabled student, a polio victim. The next year he attended a clinic where he learned more about the instruction for disabled skiers.
In 1972 Ted started the Calgary Disabled Learn to Ski Program. Since those days he has held various positions at the local, provincial, national and international levels including:
Director, Calgary Disabled Learn to Ski School (1972 – present)
President, Alberta Association of Disabled Skiers (AADS)
President, Canadian Association of Disabled Skiers (CADS)
Chef de Mission, Canadian Disabled Ski Team at the World Championships
Vice-Chairman Disabled Skiing Exhibition (1988 Winter Olympic Games)
Manager, Canadian Disabled Ski Team (1988 Winter Olympic Games)
Ted has been and is still involved in all aspects of the sport – teaching skiers and instructors, recruiting volunteers, raising awareness, fund raising, expanding programs. One of his current positions is that of Chairman of the National Technical Committee which is developing manuals for Health Canada's "Active Living Through Physical Education: Maximizing Opportunities for Canadian Students With a Disability" initiative. The manual will be used by Physical Education teachers to include disabled students into the regular curriculum.
Over the years his dedication and leadership have earned him numerous awards including: Alberta Achievement Award, AADS Volunteer of the Year, '88 Olympic Games Organizing Committee Volunteer Award, 1989 City of Calgary Volunteer Award, 1992 CADS Volunteer of the Year Award. Later this month (February 21) he will be the recipient of the Rotary Integrity Award.
The retired University of Calgary and Mount Royal College teacher has been married to Hilda for 47 years. They have a son in Penticton, B.C., a daughter in Vienna, Austria, a grandson in Cranbrook, B.C. and a great grandson.