- 1997 Sportsperson of the Year -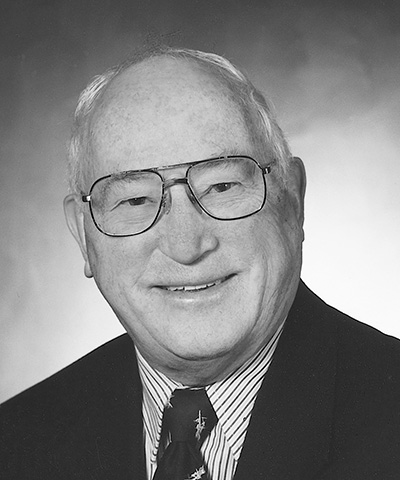 "High school athletics arc very important. IF the athletics and phys.ed. side of school life is doing well, it reflects through the whole school. Young people need a pat on the back, they need to respond to challenge and above all there must be FUN involved." That's the philosophy of the Calgary Booster Club's 44th Sportsperson of the Year Tom Humphrey.
Tom was born in 1920 in High River, Alberta and grew up in the Okotoks area south of Calgary. During World War II he served a European tour of duty in the RCAF as a navigator. Following the war he and Bernice married (in 1945); over the years the family of four sons and a daughter has expanded to include eight grandchildren.
During the post war years Tom earned his Bachelor of Education at the University of Alberta and began has career as an industrial arts instructor in southern Alberta (Cayley, Vulcan, Mossleigh) before settling in Calgary in 1951. In the early 60's as an assistant principal and later principal at Ernest Manning and Dr. E.P. Scarlett High School, Tom began his impressive involvement in sports serving as:
executive member of the Calgary Senior High School Athletic Association (including president)
announcer for high school football, track and field
president of the Alberta Schools' Athletic Association
member of the Canadian Federation of Provincial Schools Athletic Association
secretary of the Canadian Federation oi Provincial High School Athletics.
Tom has always had a deep interest in helping the continued development of amateur sport as:
a member of the Founding Committee for the Alberta Games (Summer, Winter, Seniors) in 1973 and holding various executive positions for some 15 years.
a member and now honourary life director of the Calgary Booster Club.
His dedication to athletics has helped thousands of athletes, coaches and officials across Alberta. The 1981 Robert Routledge Award of Merit recipient is well respected by former students and colleagues alike and is a most deserving selection as Calgary's 1997 Sportsperson of the Year.