Photo credit: Getty/Juan Ocampo.
The first time they played together, Austin Strand and Austin Wagner were two of five boys who shared the same first name.
After that season with the 2010-11 Calgary Bantam AA Blazers, Strand and Wagner moved up. And, on the Bantam AAA Northstar Sabres, they were joined by yet another kid named Austin.
The following winter, as members of the Midget AAA Northstars, they stood alone — the remaining Austins. (Although the roster did include three Justins.)
But this hockey journey isn't only about quirky coincidence.
Nobody actually uses their given names in hockey, anyway. The heroes of our story, to friends and teammates and coaches, are forever (and predictably) known as Wags and Strander.
And the link between them, forenames aside, is undeniable.
A decade after meeting on the ice, the close chums have once again teamed up, his time at the very top of the puck-chasing pyramid — in the National Hockey League with the Los Angeles Kings (as the only Austins in the organization).
As resumes reveal, however, their roads to reunion are distinctly different. While Wagner is heading into his fourth full season with the Kings, Strand made his NHL debut only seven months ago.
Nevertheless, against stacked odds, they're together.
"Pretty cool, I think," said Wagner. "Having a friend on the team is cool. A guy I grew up with."
Things have changed. For they are not carefree mullet-wearing teens anymore.
Now 24 years old, with careers blossoming, perspective has evolved. Sure, like kids, they did get to horse around at the Stampede this summer, but real life is staring at them.
Such as signing leases and buying houses. This summer, Wagner took the plunge, purchasing a place in Calgary. Strand got a kick out of the development, and not only because of the comically bare-boned state of his pal's pad.
"It's cool to see, going from playing Bantam AA together — and not really thinking a whole lot of it — to now, owning homes and living in L.A.," he said. "It's a big, big, big difference from where we started."
After those three seasons together in Calgary, they'd reached the junior ranks, which tugged them apart.
Wagner, who headed to Regina to skate for the Pats of the Western Hockey League, was taken by the Kings in the 2015 NHL draft, which gave definition to his pro aspirations.
Strand, after another midget season, moseyed up the highway to the Red Deer Rebels, before eventually being dealt to the Seattle Thunderbirds. And, at no time, was his name ever called at the draft. So he knew there were extra hurdles ahead of him.
"I was just going wherever hockey was taking me," said Strand. "But I didn't expect to be making a full circle — back with me and Wags.
"It's been a long growing friendship, for sure."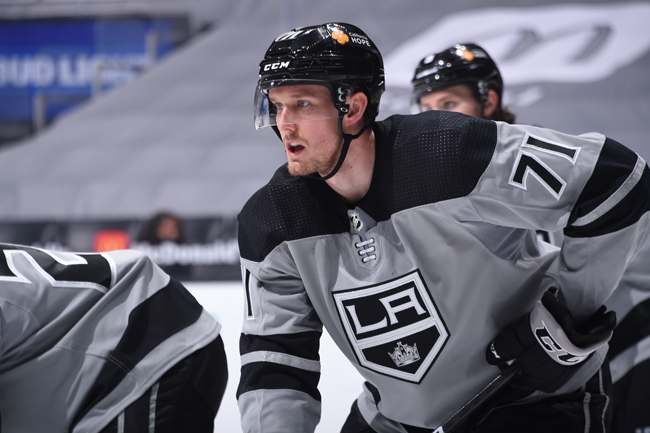 Because their big brothers — Tyler Wagner and Coleton Strand — played together, the families had been introduced. So Austin and Austin were at least aware of each other.
Thirteen years old and on the Blazers with those other Austins — Ehret, Nguyen, Hannaford, by the way — they became fast friends.
"We ended up being close," said Wagner, a full-throttle winger. "On road trips, we were always hanging out. We hit it off pretty well."
Strand doesn't remember meeting Wagner, but he does recall being consumed by anxiety. This was his first glimpse of rep hockey, and he was keen to break into the ranks of the Northstars, the highly regarded association in the city's northeast.
"Once I got comfortable, we definitely started chilling a little more, chatting a little more," said the rangy defenceman. "We got along pretty well. He's an easy guy to talk to, so we got along instantly."
They were thrilled the following winter, when they (and Austin Cabunoc) cracked the Bantam AAA lineup of the 2011-12 Northstar Sabres. Surely, a sign of things to come.
"We definitely both knew we'd be taking it to the next level," said Strand. "But for the most part it was about enjoying it back then, just being young guys."
At 14, it also marked the year of their WHL bantam draft.
Strand got the call first, going 48th overall to Red Deer. Wagner went 50 picks later, to Regina. Which, for the pals, must have seemed like a fork in the road, right?
"Not really," said Wagner. "We still trained together quite a bit. It was definitely different (going to play for different squads), but we hung out in the summer all the time. We never stopped hanging out.
"We still always had our friendship."
And, apparently always had their hockey hair. Strand happily shared a photo of the mates showing off the flowing locks. "Our long greasy mullets," he said, laughing. "Those were those days — if you didn't have a mullet, you weren't a hockey player."
After enjoying the 2012-13 campaign with the Midget AAA Northstars, they split up.
Making the Pats as a 16-year-old, Wagner rustled up only two points in 42 games as a rookie. The following year, though, John Paddock took over as coach. "He shaped my game into the player I am now," said Wagner, "the speed, power forward, the penalty killer."
All of which convinced the Kings to draft him in 2015's fifth round.
His pal, though, heard nary a peep during the NHL's draft weekend. The next year, too, Strand was snubbed. Then, in the middle of his third season in Red Deer, he was shipped further from home — to Seattle.
Which set the stage for the youngsters' memorable May of 2017 — the WHL championship. Strand helped the Thunderbirds push past Wagner's Pats in six games.
"He holds it above me every day," said Wagner.
Strand cackled. "He's usually pretty sour. That's one thing I'll always have over him. I can definitely poke him with that reference a little bit. He knows that."
But whenever the Thunderbirds' triumph is referenced, there's an inevitable rejoinder — how, in that deciding game, Wagner stole the puck from Strand and took off on a breakaway. "When I was backchecking, I was like, 'There's no way he scores,'" said Strand. "And then he scored, so I guess he's got that over me."
For Wagner, that goal was his 16th of the postseason, the most of any WHLer that spring. It also marked his final game of junior.
Pro awaited, and not much seasoning was required.
In fact, after getting his shoulder surgically overhauled and spending a season with the farm team in Ontario, Calif., Wagner muscled directly into the 2018-19 Kings' opening-night lineup.
Against the visiting San Jose Sharks — with parents Kevin and Linda and brother Tyler among the crowd of 18,230 at the Staples Center — he showed off his speed, proving he belonged in the NHL.
"I played a really good game," Wagner said. "I think I had four breakaways — I just couldn't score. A cool experience."
Meanwhile, just up the coast, as Wagner had been working his way through the Kings' system, Strand was settling in for his overage year with the Thunderbirds. He excelled. It did not go unnoticed. Mid-season, the six-foot-four blueliner was suddenly holding contract offers from three NHL clubs — including Los Angeles.
Naturally, he reached out to Wagner with news of the Kings' pitch. "He's like, 'Dude. Do it, man. The development team is so good,'" said Strand. "He was telling me he's really thrilled, really happy with everything. He was happy for me.
"Everything kind of worked out perfectly, obviously."
Geography allows the American Hockey League's Reign, with whom Strand started, and the Kings to share a practice facility in El Segundo.
For up-and-comers, that makes the NHL feel tantalizingly close. Walking in and out of the rink with Kings regulars, rubbing shoulders with the likes of Jonathan Quick and Anze Kopitar, spying Ilya Kovalchuk's Rolls Royce in the parking lot. "You're biting the bit to get up there."
That moment arrived Feb. 5, 2021, in Las Vegas against the mighty Golden Knights.
"Which, in itself, is a beast," said Strand. "It was a lot to take in. You work your whole life to get that first game."
The night went well. He finished plus-one, handling more than 17 minutes of ice time. One of his biggest takeaways? The sincere attaboys from Drew Doughty and the core of veterans. "Something I won't forget."
No surprise, he also shared a touching exchange with his pal. "Wags looked at me. I remember he was all serious," Strand said. "He came up to me, 'Congrats, man. This is amazing. Pretty cool how far we've made it.' It was good to hear that from him."
Wagner meant every word of it.
"I remember telling him I was proud of him, I was happy for him," he said. "He worked hard for it. He grinded — you can ask anybody about that. He's earned his way, that's for sure."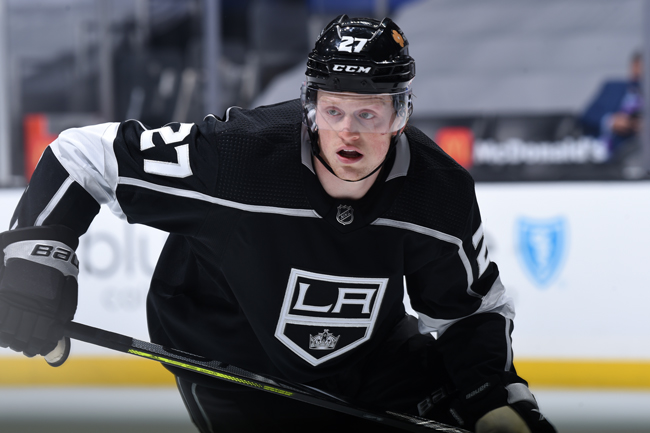 Strand, who wound up dressing 13 times, re-signed last week with the Kings, a one-year deal that pays him $771,750 at the NHL level.
"I never really knew what path I was going to take to get there," he said. "I was always working hard, then eventually everything fell into place."
Like Wagner, Strand frequents Crash Conditioning, a local hockey-fitness emporium where prospects and pros congregate in the offseason. And, for years, he'd been inspired by the posters gracing the facility.
"You see all their NHL photos," Strand said of well-established NHLers such as Mike Green and Jordan Eberle. "I remember thinking, 'I've got to get my picture up there. I've got to get on the wall.'"
Make room for two more home-grown products.
Wagner is quickly closing in on 200 big-league appearances. From his draft year, only 33 players have played more.
"When I was younger, I just wanted to enjoy hockey," said Wagner, chosen 99th overall in 2015. "Obviously, I dreamed of making the NHL, but it was never guaranteed — I was never one of those kids. I was always one that had to work hard."
Strand, completely ignored by the NHL as a teenager, acknowledges that, at times, there have been mental challenges.
"You start thinking, 'What is it?' You just start blaming things," he said. "But then you realize it's all on you — how you play. If you can play, the scouts will find you."
Perseverance, from both Austins, has allowed the fairy tale to continue.
The friends now travel south for the Kings' main camp — and perhaps for their first full season together since 2012-13. They have a hunch that their remarkable adventure has a few more chapters.
"Crazy. Definitely very rare. I don't think many guys get to say that," said Strand. "I mean, Bantam AA, Bantam AAA, Midget AAA … and now with the Kings. It's special.
"That's pretty lucky that we've got each other. It's cool to be able to share that with somebody."