Photos courtesy Gonzaga Athletics & FIBA/Canada Basketball.
Thriving is what Yvonne Ejim does, her contributions often going beyond points and rebounds.
At The Edge School in 2019-20, Ejim was "naturally" the leader, according to coach Elyse Hnatiuk, adding that the Grade 12 student was "definitely the face of our female prep program … she was like our guide, right?"
At the U19 World Cup this past summer in Hungary, not only was she "by far" Canada's best forward, according to head honcho Fabian McKenzie, she served as captain.
Typically, this is where you find Ejim — front and centre.
Between those two splendid displays of basketball — after graduating high school and before that marvellous turn at the worlds — she attended Gonzaga University.
There, at the highly regarded college in Spokane, Wash., the Calgarian had been greeted by a distinctly new vibe. Keep in mind, this is someone who was named Miss Basketball Alberta in Grade 11, someone who was accustomed to go-to deployment.
But as a freshman for the stacked Gonzaga outfit, Ejim did not star — heck, she did not even start. And certainly she did not dominate.
Till one day.
When Gonzaga needed her. Like, really needed her.
Prior to West Coast Conference title game against BYU — March 29 at the Orleans Arena in Paradise, Nev. — food poisoning had run through much of the Gonzaga roster, waylaying many of its regulars.
Even so, Ejim did not start.
But she finished.
Corralling a game-high 13 points, including eight in the final 10 minutes.
Registering a team-high nine rebounds, including an offensive board to set up a teammate's buzzer-beater in Gonzaga's frantic 43-42 comeback win.
All of that crammed into just 21 minutes of floor time.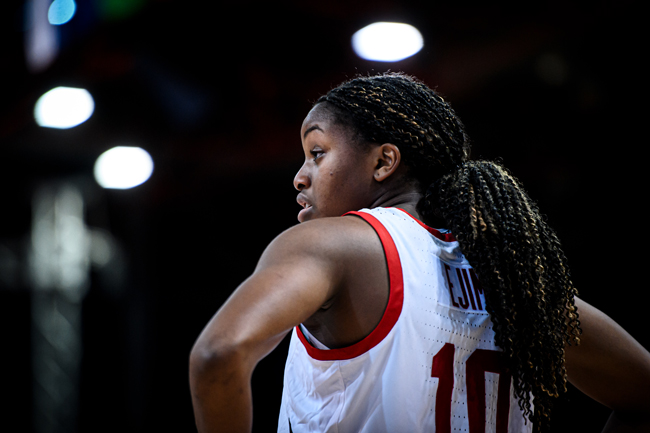 Asked afterward about the rookie, coach Lisa Fortier told reporters: "She's going to be a great player for us, and today she was a great player."
That outpouring of on-court goodness landed Ejim, two weeks shy of her 19th birthday, on the WCC all-tournament team.
"Just having my team depend on me was very highlighting," she said during a late-afternoon phone conversation from Spokane. "I really wanted to go out there and show them, show my team, and the Gonzaga community that I'm the player that they know I am — and I proved it on the court. That was definitely a big highlight game for me."
Trying to explain that heroic burst, which arrived in the late stages of a nail-biter, she downplays the drama: "Definitely in the fourth quarter I got into a little bit of a flow, a rhythm, which made it a lot easier to play."
Following along that afternoon had been Eddie Richardson. The Edge School's director of basketball and cofounder of Genesis Basketball, a club in Calgary, he has known Ejim since she was 14.
So seeing her bust out at the NCAA level? In a conference championship?
"It's who she is," said Richardson. "We talk about it all the time — opportunities. When you get your chance you have to show what you can do. When the coaches look down the bench, they've got to say, 'Well, I can't not have Yvonne in the game.' That BYU game was, 'Oh, wow. She can do that.'"
Asked about her former player's difference-making performance in the WCC final, Hnatiuk laughs.
"I'm 100 per cent aware of that game," she said. "It just showed, 'I'm doing all the right things, I'm doing all the work, Coach trusts me. Now I'm playing in a big game.' It was literally just the poetry of who she is as a person. Very cool."
Transitions aren't over for Ejim.
As part of the national-team program — following two years as a cadet, two years as a junior — she is advancing to the senior level.
As a college student, she's now a sophomore on a squad that, after graduating three primetime contributors, is swinging open the door for floor time.
"It's definitely something I can strive for," Ejim said. "I can definitely compete for that starting (job). I'm just hoping to get a lot of minutes on the court this year."
No one doubts the likelihood of that.
Yet given all that she's accomplished, Ejim remains one of Calgary's best-kept secrets.
"I think the basketball world knows — or, I should say, select people in the basketball world know about her," said Hnatiuk. "People who want to know and actually follow basketball, they know how well she's doing."
And if casual observers are unaware of Ejim's potential, that may simply be a byproduct of her own personality.
A modest sort, the kid is unlikely to crank the hype machine.
"Yvonne is the quiet warrior," said McKenzie. "She just goes about her business. It's not about her. But, man oh man, does she bring it when she's on the court. She works tirelessly. Non-stop.
"As I've told her numerous times, 'If there was a lot more players with the heart and desire that she shows, we'd have a lot better basketball players in our country.'"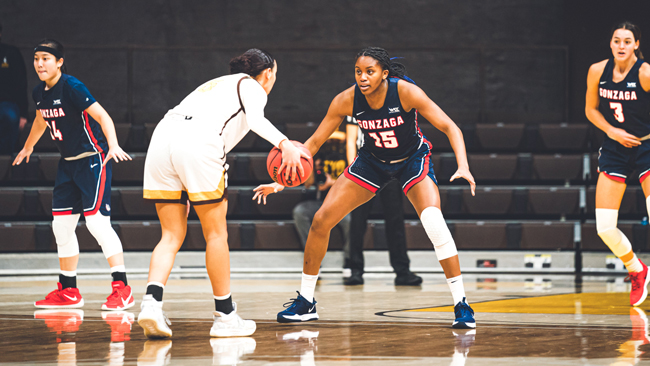 Hard to believe, as a little girl, this had been a tennis player.
Interest, however, was fleeting, she says with a laugh. "The only thing I can remember is that I had a really good serve."
But hooked on basketball had been her four older brothers — Deon, Kenny, Ryan, Melvin. "I guess you could say I followed in their footsteps." Introduced to the sport at the age of seven, she turned heads.
"People talked my mom (Otonye) at camps and told her about other stuff I could do with basketball," said Ejim. "And that kind of flowed into my whole basketball career."
She played club ball with the Storm, then with the Warriors and Genesis. Reaching her teens, it dawned on her what a future could look like.
"Honestly, I had the college idea around junior high," said Ejim. "My coaches were like, 'What do you want to do with your life? How far do you want to go in basketball?' They always asked us that question at practice to motivate us. I feel that that was my starting point, where (I said), 'I really want to play (university) basketball in Canada or the U.S.'"
Not that Ejim needed to knock on any doors. Schools, bearing scholarships, came to her.
Colleges began to touch base when she was a Grade 10 student at Bishop Carroll High School. Mulling over what she describes as "quite a few offers," she opted for Gonzaga, a private institution with an undergrad population of 5,000 and a well-established reputation on the hardwood.
The decision boiled down to three priorities, Ejim says. "Community was a big part of it. Academically, I wanted to get a good education. And how I would develop in my four years of basketball."
She committed in Grade 11 to Gonzaga, then transferred to The Edge School for her senior year. For the 2019-20 season, the Mountaineers' schedule was comprised of travel tournaments.
Meaning, across North America, Ejim showcased her talent.
Los Angeles. Phoenix. Halifax. Las Vegas.
"She dominated down there, in front of scouts, against teams from New York, from California," said Richardson. "People didn't know … but she had Duke, Michigan State, and so many other schools saying, 'Hey, Eddie, we're going to come see her.' These schools were like, 'We want her in our program.'"
An understandable sentiment because there is plenty to admire.
Ejim is dynamic. She's powerful. She's cagey.
"Oh goodness, she's all of those, depending on what you need," said Hnatiuk. "She's smart when she needs to be smart. If you need a two(-point basket) or you need an O-board or you need a defensive rebound at the end of the game … it really depends on situation. Her different skills shine at different times."
All of which is blanketed by her tenacious nature. By appreciative coaches, by impressionable teammates, it's hard to miss.
"As soon as we throw the ball up in the air, she's after it," said Richardson. "Other girls saw and realized, 'Well, hold on. This is how we have to play.' She's phenomenal that way."
A complete package, a coach's delight, Ejim took her act to Spokane for the 2020-21 season.
With a spectator-free schedule — for obvious reasons — her family members didn't make the eight-hour drive from Calgary to Spokane. But they streamed the action. ("Before I came to Gonzaga, me and my mom always found a link to the games and watched them together, so she's very familiar with how to watch all of my games.")
Ejim, meanwhile, focused on student life. A human physiology major, she plans to become a doctor.
"She was ready academically," Richardson said of Ejim — who'd earned a spot on the Principal's List at The Edge. "She was always taking the hardest courses. She was knocking them out in summer school. So, from the academic side, she was ready to dominate."
In addition to online learning, the calibre of basketball presented fresh challenges. As well-schooled as she had been, Ejim admits to bouts of nervousness.
"Pretty much what I was reminded was that I'm here for a reason," she said. "So just being who I am and doing what I know I can do … was definitely something I took on the court."
Good thing, because, even at six-foot-one, she was suddenly undersized. Especially in the post, the physicality of the college game was something to behold.
"The intensity … it's a lot faster," said Ejim. "It comes at you, so you have to be controlled and take it."
With the Zags steamrolling to a 23-4 record, she missed getting floor time in only two outings. Per appearance, she averaged 3.7 points, 2.1 rebounds, 6.5 minutes. It was enough to crack the conference's all-freshman team.
"It's a big step to get to that level," McKenzie said. "Yvonne had to go through the learning process, for sure. But her learning curve is short. She doesn't need a whole lot of time to figure things out."
Added Richardson: "It's NCAA Division I Gonzaga University, so it's overwhelming in so many ways. But she's such a mature young woman that it didn't affect her as much as it would others."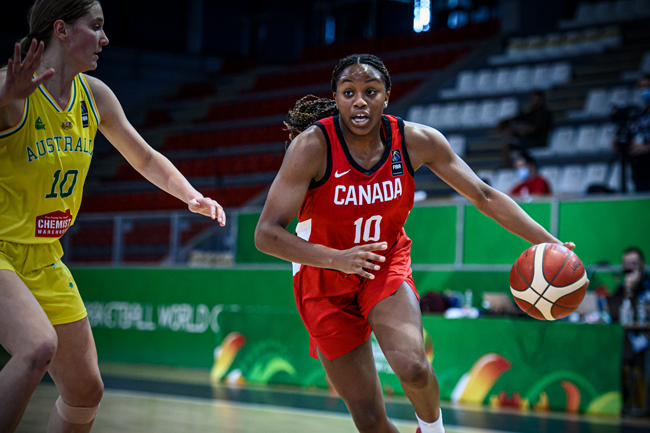 About Ejim, fair to say, there are few doubters at this point.
The forward the coaches describe is special, but it's the person they really want to rave about.
"Such a humble kid, right?" said Hnatiuk. "You can tell her how great she is, up and down, and all around, and she would just kind of giggle and say, 'Oh, thank you.' Amazing. Her ability to be so humble and kind to literally everyone she speaks to … it's not a show with her."
Hnatiuk paints a picture of the perfect team player. Too, Ejim is not afraid to be herself. If she chooses to work on three-point shooting, she'll stay late in the gym — no matter what her teammates' plans might be.
"It was like, 'Nope, I'm doing this. And this is how I'm doing it.' Very driven," said Hnatiuk. "She doesn't follow what the cool kids are doing, right? It's not something you see at a teenager level. It's super rare.
"To have her show people, 'This is how it's done. This is what you'll get if you put in the time.'"
For school events at The Edge, too, Ejim made her own way — with enthusiasm, with no one needing to line up in front of her, according to Hnatiuk. "It was always like, 'All right, guys. I'm going to do this. So follow me or kind of get left behind.'"
It's the kind of character that convinced Team Canada's coaches to name Ejim captain for the U19 World Cup. An adept communicator, she excelled, embracing the responsibility.
"She seems to have the pulse of the group all the time," said McKenzie. "She was that calming influence … but (she could bring) that motivational impact when we needed it. In practices, in games, she just knew when it was time — and what style to use."
Of course, leadership initiative doesn't matter if she cannot play the game.
But, clearly, Ejim can.
In Hungary, injuries ripped holes in Canada's lineup. And some of the healthy players, because of COVID restrictions, hadn't played games in more than a year. Ejim stepped up. Helping to carry the Canadians to fifth place, she ranked among the tourney's pace-setters in rebounds, blocks, efficiency.
Recalling Ejim's run of excellence in August, McKenzie uncorks a stream of superlatives — commending the teenager's moxie, energy, composure, selflessness, competitiveness, even her sense of humour.
Catching himself, McKenzie stops and laughs.
"I could talk about her forever."