Photos courtesy of Bree Howling and Sean Davidoff.
It's a night packed with unprecedented punch. For good reason, it had been billed: "For History."
Two women, for the first time, were headlining a fight card at Madison Square Garden, with Katie Taylor putting her undisputed lightweight titles on the line against Amanda Serrano on April 30.
And, without doubt, the 10-round main event lived up to the hype.
A viewing audience of 1.5 million — most-ever for a female boxing match — watched Taylor earn a split decision.
Cheering — from the comfort of her couch in Livingston, a neighbourhood in Calgary, 4,000 kilometres west of New York City — had been Bree Howling.
Who, better than most, could dissect the bout. Who could truly appreciate Taylor's elite handiwork.
Who, it must be said, experienced mixed emotions.
Because, at one point, Howling had been part of that name-maker of a card.
The story starts with the Calgarian — a 118-pound dynamo with a 3-0 record — being offered a match that would take place in March. She agreed to move up four weight classes and square off against an Olympian. "I said yes within two minutes of being asked. It's confirmed, it's on (BoxRec.com), which kind of makes it official. Then the other person said, 'No, we're going to choose another opponent.' Boxing politics — things can fall through your fingertips without any reason."
Easing the sting? Shortly after, Howling was offered the same deal — versus the same opponent, this time for the high-profile fight night at MSG.
She jumped at the chance, excitement re-ignited. Making her American debut on that card? Yes, please.
But weeks before the event, her foe bailed out — yet again. Another crushing development for Howling.
Bad news does smart, but like every up-and-comer in professional boxing, she knows she needs to make her peace with the unsettled side of the business. She describes a landscape of multiple commissions and sanctioning bodies, of different rules and promoters, of unregulated havoc.
"Things just keep falling apart," said the 24-year-old. "There's no clear-cut path of, 'OK, once you do this, we're going to give you that title (shot) and this is who it's going to be against.' It's never going to be straightforward.
"It's not like hockey, where it's a scheduled game, the Oilers against the Flames — someone can't say, 'Oh, we don't want to play.' They have to play. But in a fight, anyone can pull out.
"It's a nightmare. There's no promises."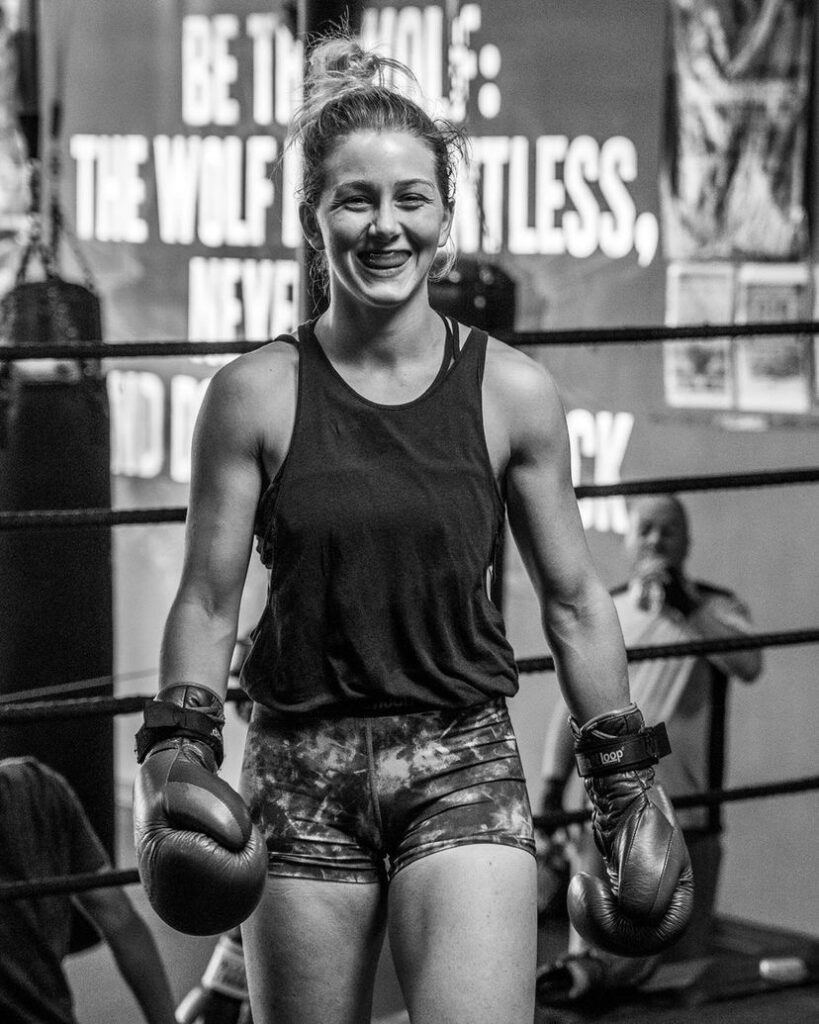 However, she is still keen. She hasn't fought in more than a year, but she's optimistic that a mid-July tussle will take place. At least, that's her hope.
Howling manages a laugh. "You're eager, then you're let down, you're eager, then you're let down. After so many cancellations, I'm just, 'Put me in there with somebody. I don't care who it is. If it's a guy, whatever.'"
She is in the phase of her career — only a dozen pro rounds total — where she'd love to scrap at least four times a year to bolster her numbers, to forge her reputation, to create momentum.
If nothing else, she's fit. There's no choice but to stay ready for whatever's around the corner, to maintain conditioning because, hey, you never know, right? "I've just continued to train and train and train."
Sounds like a shrewd approach, but it's hardly ideal for the athlete.
"Boxing is brutal, there is so much to prepare," said Howling. "Then at the end of it, you've put in all this blood, sweat and tears, everything can be taken away by somebody … with any excuse in the book. It's mental, physical, emotional, everything all at once, it's definitely the hardest sport in the world."
With a summer fight in her sights, Howling is honing her edge.
She also operates as a personal trainer with her boyfriend Declan Walsh's company, Fight 2B Fit. All of which keeps her occupied.
But no one could blame her for cursing the what-ifs of recent months. Trying not to get disheartened by the sport's unpredictable nature, she says it happens to everyone, particularly younger punchers.
"Maybe the fighter is scared of their opponent, maybe the money's not right, the timing's not right, maybe they're injured," she said. "There's so many reasons why things fall through. For me specifically, I just can get anyone to say yes to me.
"Maybe I should put less things on social media and (allow) less access to seeing the talent that I have."
A hotshot athlete at Bishop O'Byrne High School, Howling, in Grade 10, began to accompany her then-boyfriend to workouts at Mike Miles martial arts academy.
"I would go and watch him after school, just because you do that when you're boyfriend and girlfriend," she said, laughing. "You're trying to support."
Her interest in Muay Thai — a one-on-one combat sport — was piqued. She asked her dad Ken about joining the club. He told her to go for it. So Howling signed up for a beginners group. "Within two or three weeks, they were asking me to come to fighters class. I was just naturally quite good at it."
Showing well, she fought a handful of times as an amateur. Then she went three years without any kind of athletic activity, choosing instead to work full-time.
Soon, though, Howling's competitive juices began to bubble.
She figured if she was willing to fully commit to a sport, it needed to be a "good business choice," one with the potential for income. She knew she wasn't scared to battle. She'd wrestled in high school. And Muay Thai proved that she has "good hands." So, despite having never boxed a single second of her life, she decided that the sweet science was the best bet.
"The female boxing game just started on the rise at the time I was thinking about going into it," said Howling. "So if I go pro in this, I'll make money. And because the market is so unsaturated, I'll actually be able to be seen."
So she skipped the the amateur side entirely, preferring the punching-for-pay model.
First step? Getting a professional licence, a process that presented few hurdles.
"You can just sign up to be pro and you're pro," said Howling. "It's, 'Do you want to be pro? Yes? OK. Here's your licence.' That's why you see such a disparity, especially in the female game. There's high-level fighters and there's really, really low-level fighters, but we're all pros."
Only three months after submitting her paperwork, at the age of 21, she was boxing for real. "I ran full-force into it."
In September 2019 and February 2020, Howling pounded out four-round unanimous decisions at the Deerfoot Inn and Casino. For her most recent match, 13 months ago, she travelled to Quebec and banked a majority decision.
"When I get into the ring, I have an alter ego," she said. "I kind of black out. I'm more focused and more sharp than I ever am, even in training camp."
Then came that rash of cancellations, resulting in one dejected — but still gung-ho — fighter.
Howling doesn't regret the direction of her career. Boxing, especially because it is impossible to master, appeals to her.
"What makes it tick for me, it's so difficult," she said. "I've played every single sport in the book— volleyball, basketball, football, wrestling, badminton, track and field. I did everything, but nothing compared to the challenges, mentally and physically and emotionally, that I'd feel from Muay Thai or boxing. I'd always been in a team sport or a sport that didn't challenge me enough.
"Being on your own and having to push through immense pain all the time … it's an exciting thing. It's so easy to get addicted to it. There's little things you can constantly get better and better at — you'll never reach a peak. I like that. I'll always be a student of boxing."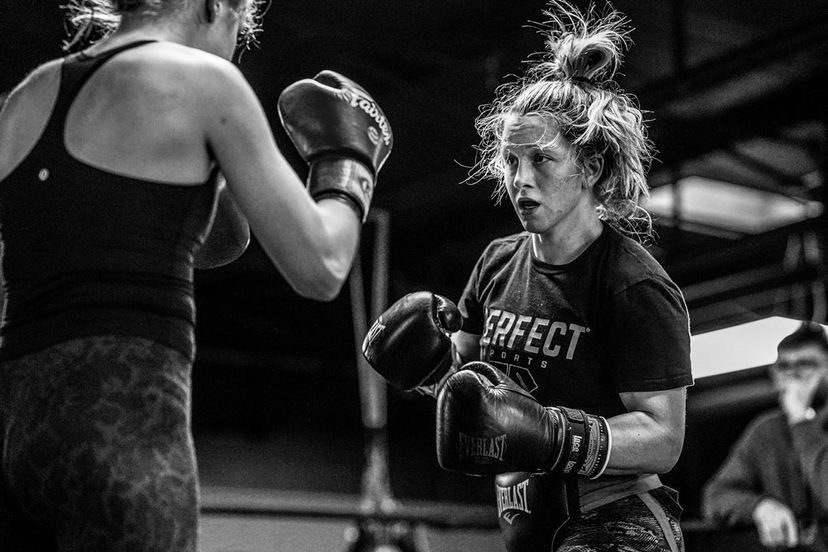 Her decision to enter the fight game had been met with encouragement from her family. Not a shock, given that she used to watch UFC events with her two big brothers and her dad. "So they were like, 'Oh my god, that's a great idea. Fantastic.'"
Then again, Mom, to this day, remains concerned about her daughter's well-being.
Strangers, too, take a look at Howling, 5-foot-4, and have a hard time imagining her climbing into the ring to trade blows.
"I hear it all the time — 'You're a boxer? Why would you box? You're going to wreck your face,'" she said, laughing. "I typically don't get hit too much, so I'm not worried about it. And I'm not so connected to my looks that I don't want to get bruised or cut or anything. You know what? Just hit me."
Howling describes herself as a well-rounded boxer, someone who moves well, delivers crisp combinations, and who, when necessary, can ratchet up the aggression. "I'm kind of bulldog, but I'm not messy. It's very methodical, very strategic. Which makes me an exciting fighter to watch. I put a lot of work into making sure I box beautifully."
It might be surprising to learn that she's not a natural meanie. "I don't have any temper. I'm just surprisingly chill."
Even if her father, a former junior-hockey player, encourages her to amp up her in-fight fury, she's wise enough to know that that kind of approach is counter-productive. "My brain doesn't work like that. I strictly go into the ring clear-minded and focused and ready to do sport. I'm here to play chess. If you go into the ring angry, that's when people get knocked out, that's how people get hurt, because you're not thinking clearly."
Turning her considerable athleticism to boxing had been a choice, one based on the pursuit of excellence.
Simply put — Howling wants to own her weight class.
"I recognize that even though I have little experience compared to the people at the top, I could fight for titles right now, which makes me feel pretty good," she said. "I'll be ready when the time comes. When it comes time to fight for world titles, I won't be out of place."