The Calgary Booster Club's 69th Annual Sports Gala, a celebration of the city's sports community, took place recently.
The event occurred on Sunday, April 23, 2023 at the Glenmore Inn & Convention Centre with over 300 people in attendance.
We had a great time celebrating the outstanding athletes, sports leaders and organizations that help make Calgary one of the most active and vibrant sports communities in Canada.
A comprehensive list of the award winners is below.
If you would like to support sport in Calgary, please click here to learn more about our Sport Legacy Fund, which is an endeavour that is aimed at bringing more awareness to the work we do to elevate athletic pursuits in the city. Learn more and please consider a donation.
2023 Sportsperson of the Year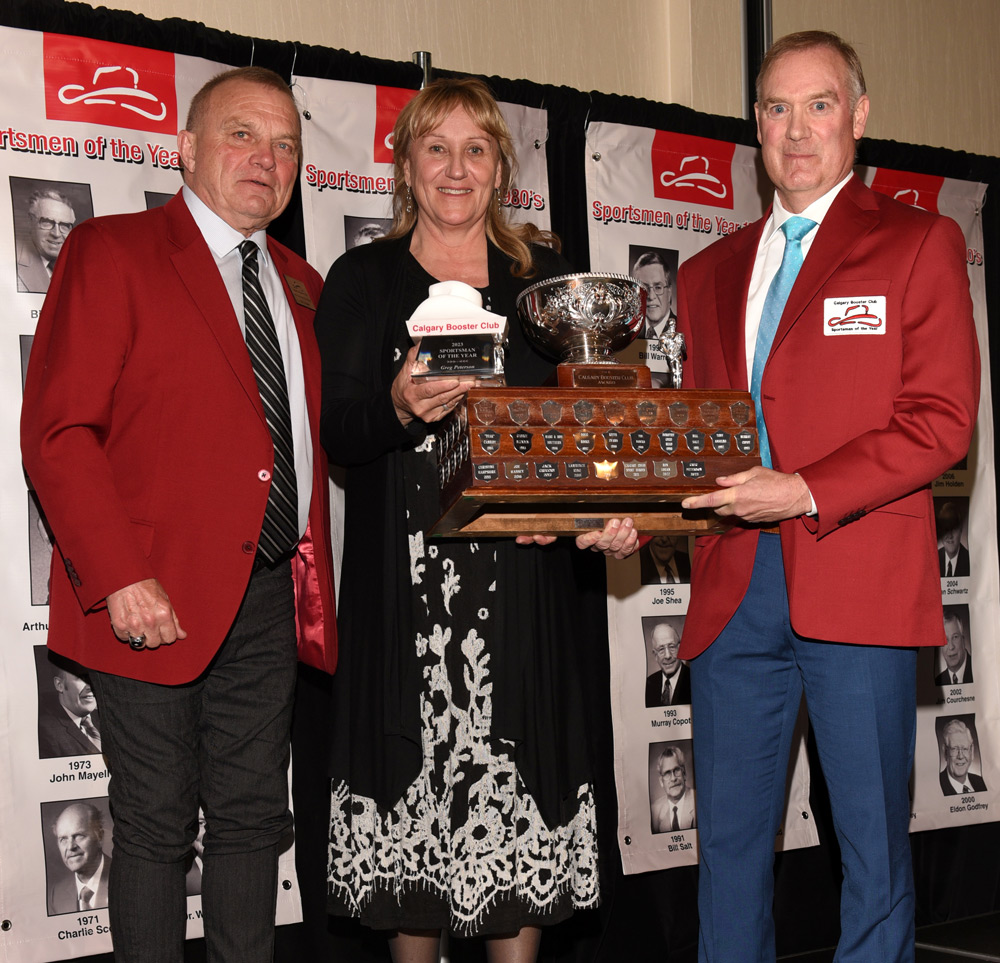 Greg Peterson – read more about this award winner (https://www.stampeders.com/2023/04/03/greg-peterson-honoured/ )
Henry Viney Trophy (Female Athlete of the Year)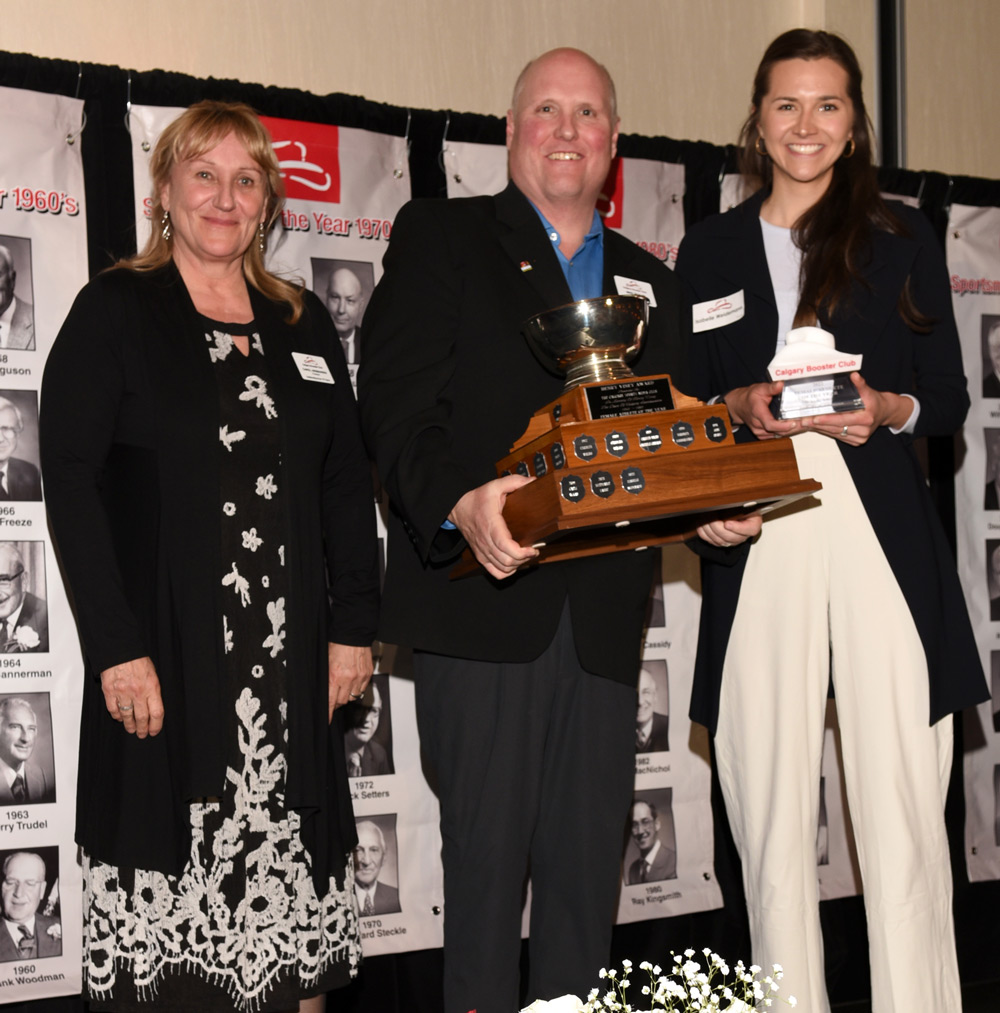 Isabelle Weidemann – read more about this award winner (https://calgaryboosterclub.com/2023/04/20/qa-with-isabelle-weidemann/ )
Scott-Mamini Award (Male Athlete of the Year)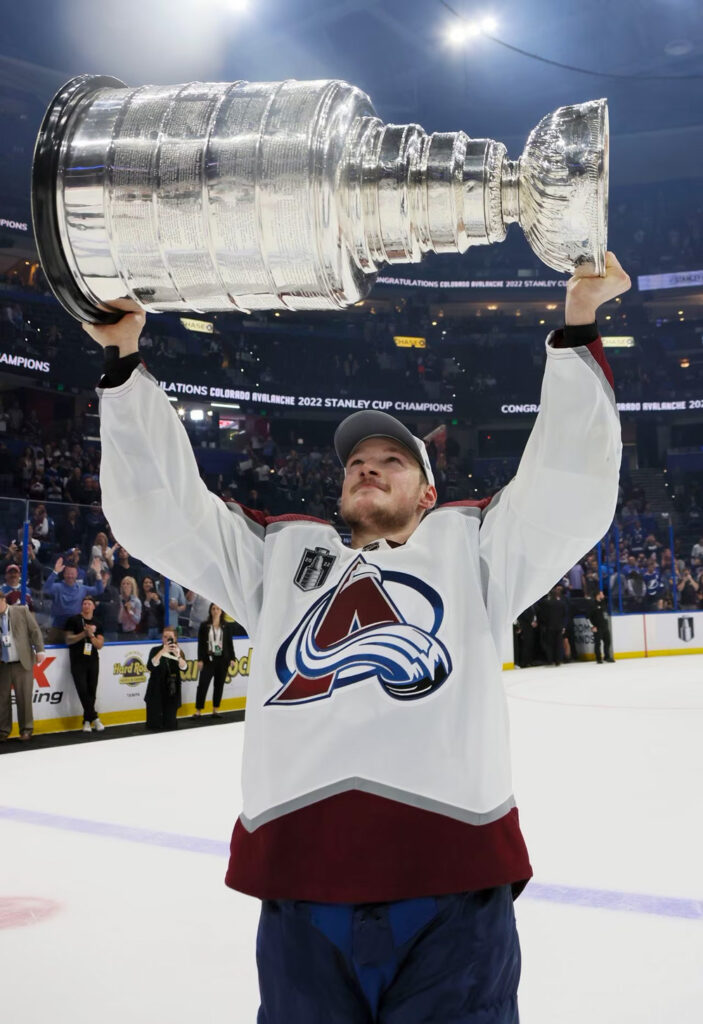 Cale Makar – read more about this award winner (https://calgarysun.com/sports/hockey/nhl/all-hail-cale-inside-makars-rise-from-crowchild-twin-arena-to-conn-smythe-trophy-winner )
Jack Gregory Trophy (Special Olympic Calgary Athlete of the Year)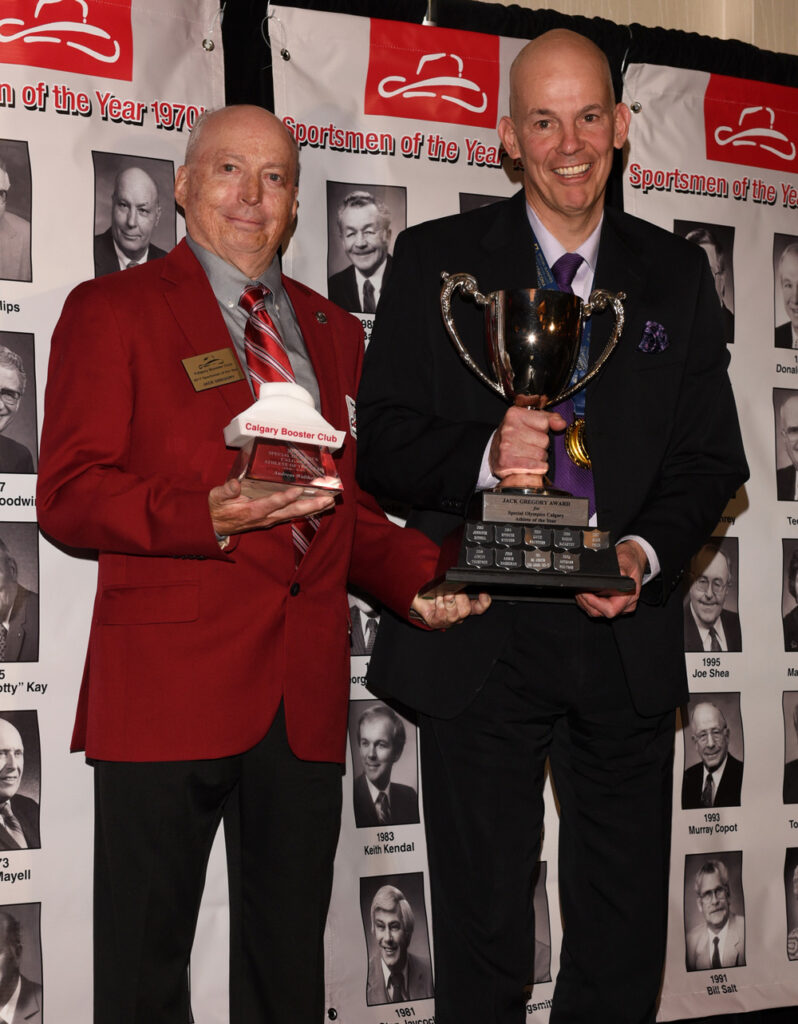 Andreas Walther
2023 Honoured Athletic Leaders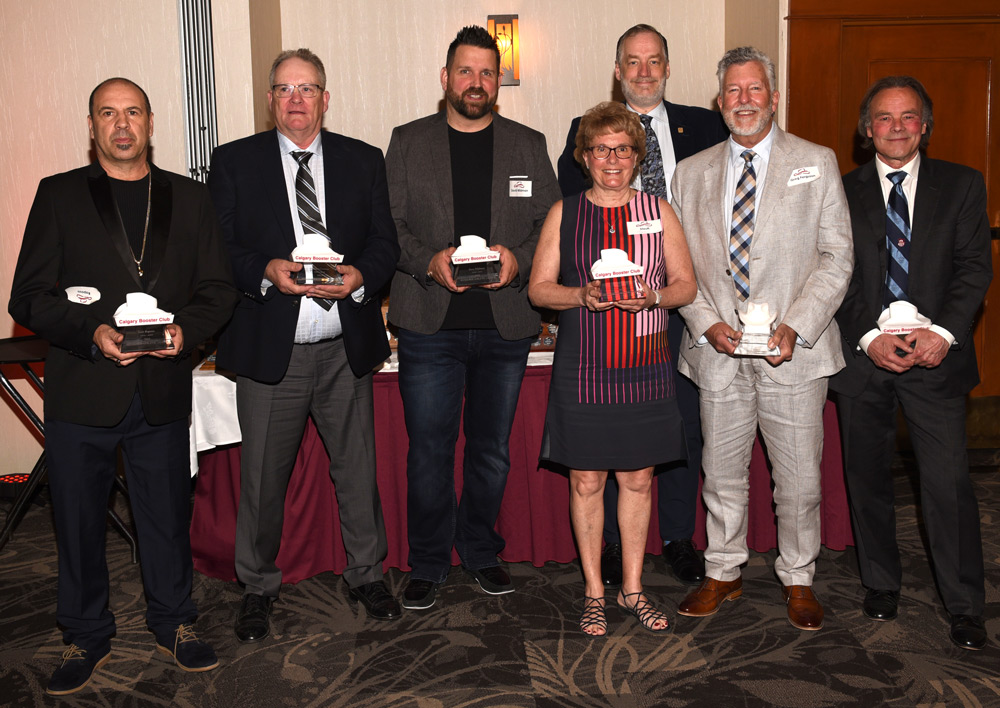 TERESA STAUFT – Swimming
Not one to just dip her toe in the pool, Teresa dove right into the swimming scene and the sport is better for it. For over a quarter of a century, she has devoted countless volunteer hours to the Killarney Swim Club as a trainer and mentor to referees and starters. Teresa has served as an official locally, nationally and internationally, often traveling to competitions across Alberta. In addition, she worked on the Alberta Officials and Competition Committee (AOCC) and was recognized by Swim Alberta as the Administrator of the Year in 2016-17.
GLEN KERR – Rugby
After playing rugby at the high school and university level, Glen became involved with the Calgary Canucks Rugby Club, an organization that he coached with before acting as president between 2009 and 2015. Since then, the born-and-raised Calgarian has worked as the vice-president of fundraising and community relations. The Canucks Rugby Club has grown over the years and sent a number of players to national teams and the professional ranks. Glen also worked as the secretary for the Calgary Rugby Union from 1998 through 2000 and was instrumental in establishing and growing junior rugby in Calgary.
LUIS RAPOSI – Boxing
He's helped produce Golden Gloves boxers, as well as champions at the provincial, national and world levels. Luis brings over two decades of experience to his roles as the owner and head trainer of Impact Boxing & Fitness. Both energetic and passionate about the sweet science, Luis is an excellent technical coach who has prepared athletes for competition across North America. According to those who have trained with him, he inspires as well as he instructs.
WILLIAM (TERRY) COVENEY – Boxing
Terry has coached across Alberta and Saskatchewan for over four decades. He was one of the founders of The Calgary Boxing Club, a group he continues to serve with as president and head coach. He got his start in the sport as a youth at the National Boxing Club in Calgary and when his career ended, Terry began volunteering as a coach. He has worked on the Boxing Alberta Board of Directors and been the provincial coach for Alberta boxing teams.
GREGG FERGUSON – Alpine Skiing
It's been all downhill for Gregg and he wouldn't have it any other way. For three-plus decades he has been a valued volunteer with the Alberta Alpine Ski Association and Banff Alpine Racers. In that time, Gregg has supported skiing by putting in work on various boards, serving as a race official, and organizing events of local, provincial and national importance. As well, he has been a national technical delegate and an instructor of officials. Gregg has also been named the Alberta Alpine Official of the Year for his commitment to training and developing officials.
DAVE WILDMAN – Volleyball
Ace Volleyball Club, one of the largest club volleyball organizations in Canada, incorporates top-level coaching and high-quality experiences for thousands young athletes. The club's success is a direct result of Dave's efforts. As the founder of Ace Volleyball Club and a coach in the sport, he has produced both high-calibre athletes and people. Dave has invested over 20 years in volleyball, and remains committed to growing the sport in Calgary, Alberta and across the country.
ROB KERR – Media
Since arriving in Calgary in 2003, Rob has had his finger on the pulse of the city's sports community. He spent a dozen years as a radio host with Sportsnet 960 The Fan, developing a loyal following along the way. He broadcast games involving the Calgary Hitmen, Roughnecks and Vipers before he became the play-by-play voice of the Calgary Flames from 2011 to 2014. Away from the microphone, Rob helped the sports community by initiating a number of programs that benefit disadvantaged youths. He was also inducted into the Alberta Sports Hall of Fame in 2019.
2023 Bob Freeze Sport Grant Individual Recipients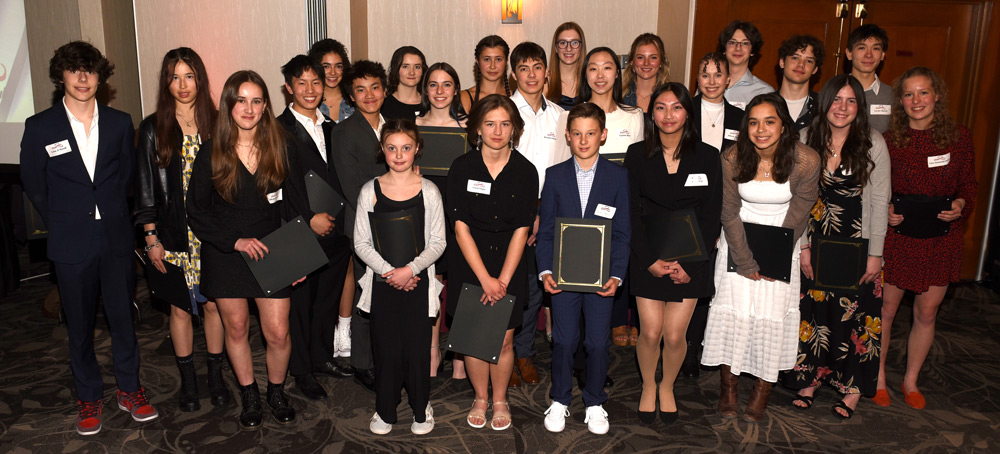 NAME – SPORT
Nienke Albricht – Sprint Kayak
Aiden Baker – Baseball
Kyla Bednarek – Basketball
Virginia Cai – Martial Arts Wushu
Kai Choe – Sprint Canoe
Marek Chomin – Speed Skating
Olivia Deters – Field Hockey
Luke D'Hondt – Trampoline Gymnastics
Ashtyn Forsberg – Luge/ BMX
Ryenn Forsberg – Luge/BMX
Natasha Guerin – Volleyball
Brandon Hachey – Swimming
Monroe LaRochelle – Rowing
Sunnie Leishman – Triathlon
Jacob Li – Pentathlon
Joshua Li – Water Polo
Lucan Marsh – Modern Pentathlon
Ailey Marshall – Basketball
Sophia Mao – Rythmic Gymnastics
Donya Movaffagh – Karate
McKenna Pineda-McLean – Water Polo
Sonia Popa – Rowing
Kaiya Ruiter – Figure Skating
Avery Steinke – Triathlon
Alexa Vanier – Boulder Climbing
Anna-Theresa von Hoensbroech – Rowing
2023 Bob Freeze Sport Grant Organization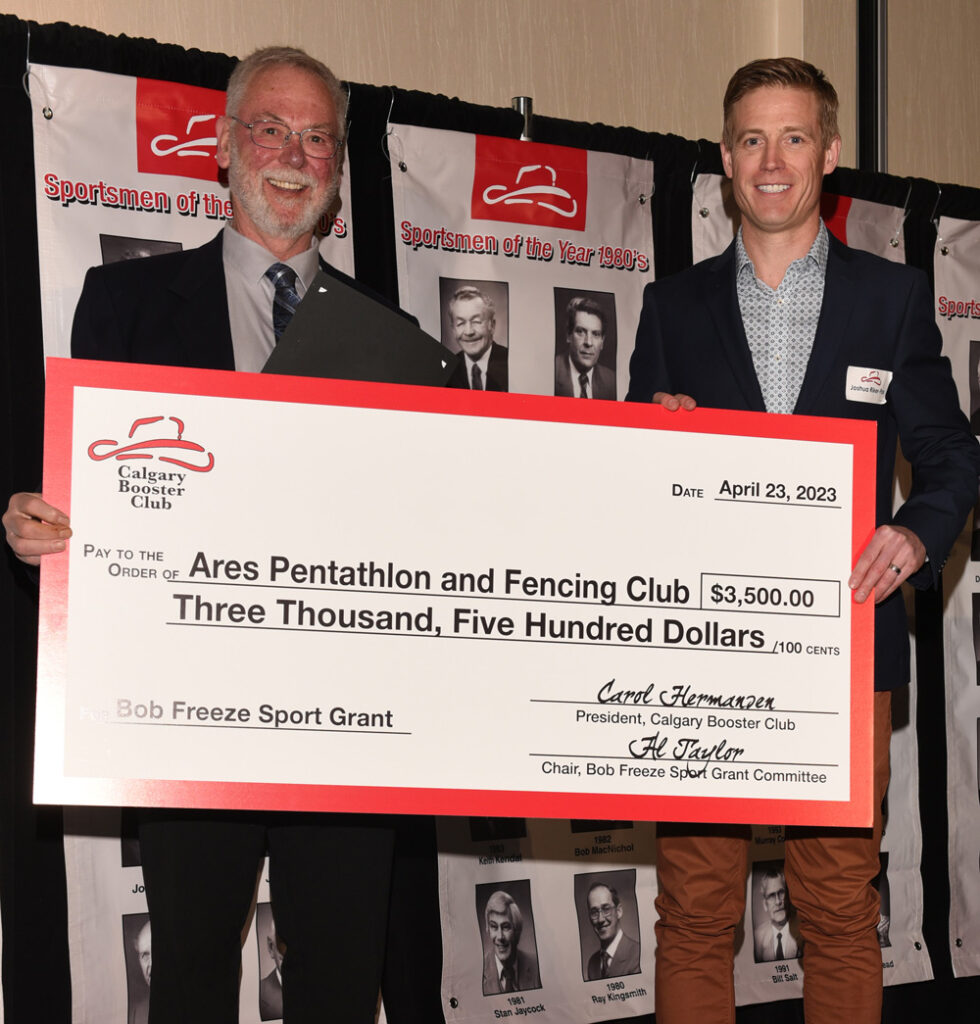 Ares Pentathlon and Fencing Club
Ares Pentathlon and Fencing Club (Ares) is a unique and growing community based athletic club. Ares is the only club in Calgary providing multi-sport programming, training, and coaching in the sport of modern pentathlon which includes fencing, swimming, running, and laser target-shooting events. Ares provides diverse programming from beginners to developing high-performance athletes who are representing Canada in world competitions.
Harry Hood Memorial Football Award Winners 2022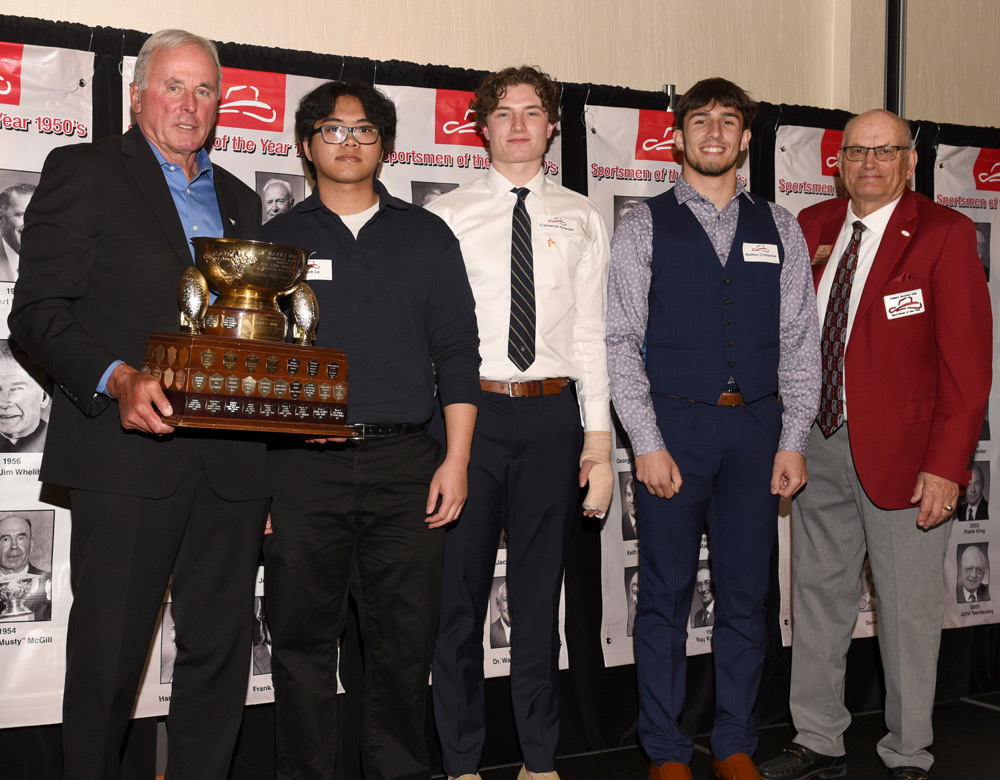 Gretta Schwartz Memorial Award Winner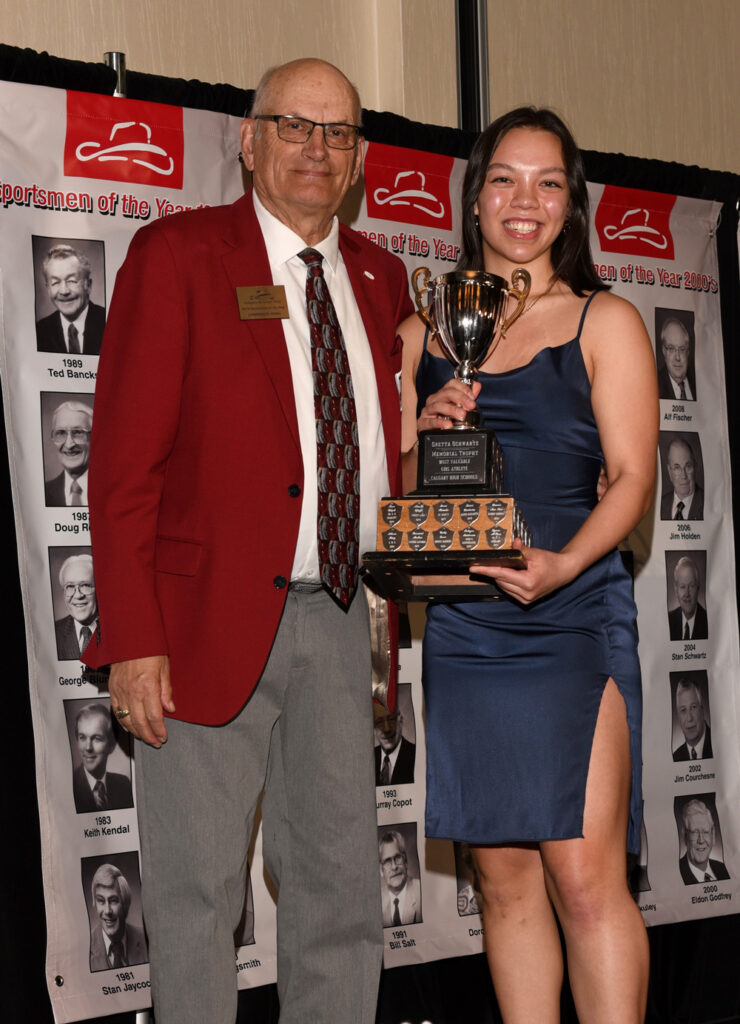 Jenae Navarro, Bishop Carroll High School
This exceptional student athlete, with a 94% average over three years of high school, still found time to be a member of her school's soccer, basketball, badminton, rugby, swim and track & field teams during her illustrious career. She was also a member of her school's Athletic Council and Social Media Club and coached soccer in the community. As the Outstanding Female Student Athlete in her school, she was the recipient of the Hayley Wickenheiser Booster Club Award.
John Mayell Memorial Award Winner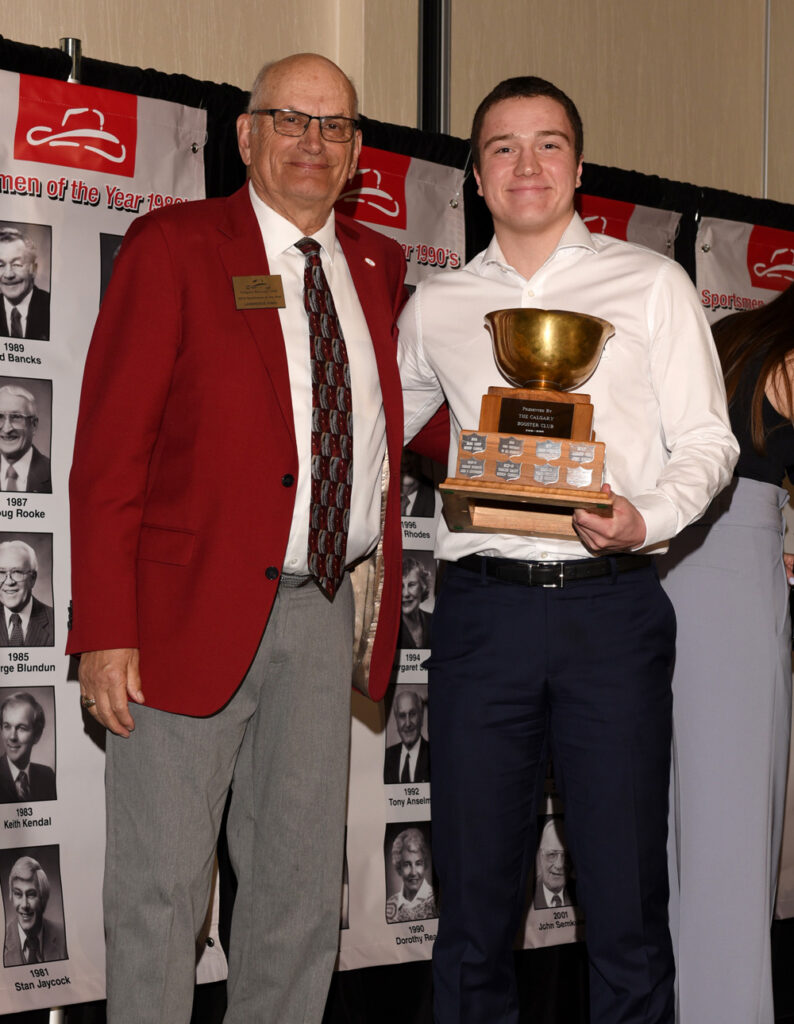 Dawson Sheehan, Henry Wise Wood High School
This outstanding young man was a member of his school's cross country, football, basketball, badminton, swim, golf and track & field teams through three years of high school while maintaining a 92% academic average. He also found time to be a math tutor and school mascot. In the community he continued to excel with the Cascade Swim Club and in the triathlon, winning gold medals on many occasions. Finally, as a member of Willow Park Golf & Country Club he was the Junior Open Golf Champion in 2022.
Art Smith Endowment Grant Recipients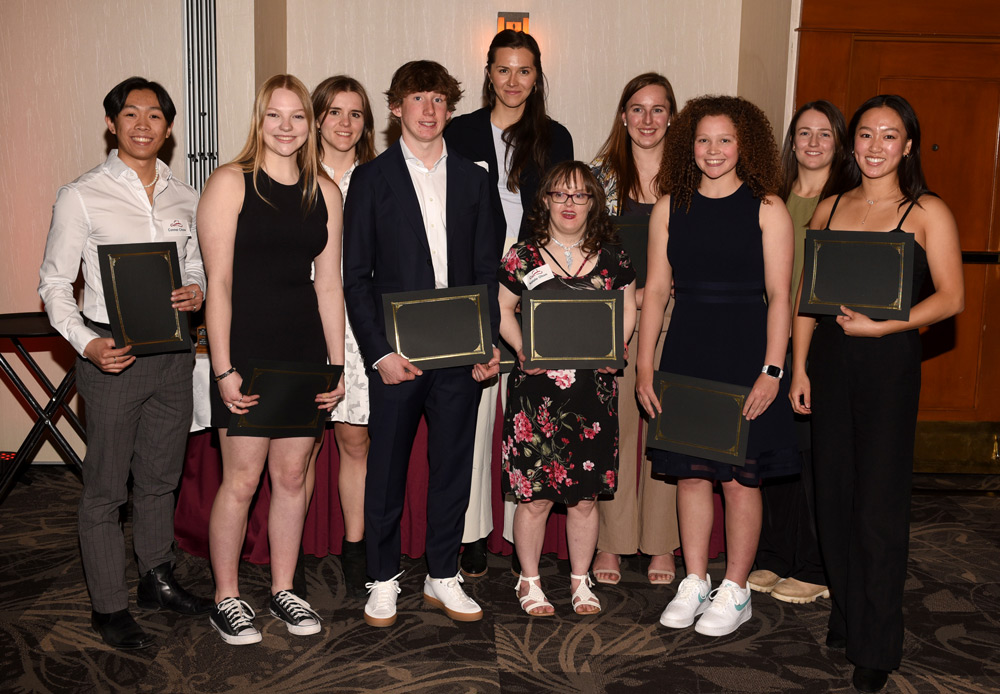 NAME – SPORT
Anna Bourgeois – Long Track Speedskating
Claire Brett – Artistic Swimming
Connor Chow – Modern Pentathlon
Grace DaFoe – Skeleton
Katherine Featherstone – Water Polo
Kelly Fitzsimmons – Modern Pentathlon
Amy Fraser – Freestyle Skiing
Alex Gamage – Rugby
Brooke D'Hondt – Snowboard Halfpipe
Andrew Hubbard – Rowing
Olivia Li – Modern Pentathlon
Natalie Olson – Karate
Shaye de Paiva – Rowing
Paulina Promcharoenwatana – Freestyle Skiing
Karissa Riley – Rowing
Melanie Scholz – Field Hockey
Payton Sheehan – Triathlon
Isabelle Weidemann – Long Track Speed Skating
Lorne Wigginton – Swimming
Gabrielle Yarema – Rowing
UNIVERSITY/COLLEGE ATHLETE AWARDS
Mount Royal University Cougars Award Winners
Female Rookie of the Year – Zyna Centeno (soccer)
Male Rookie of the Year – Connor Bouchard (hockey)
Female Al Bohonus Athlete of the Year – Tatum Amy (hockey)
Male Al Bohonus Athlete of the Year – Riley Sawchuk (hockey)
Female Brian Fleming Award Recipient – Quinn Pelland (volleyball)
Male Brian Fleming Award Recipient – Jackson Brennan (volleyball)
SAIT Trojans Athlete Award Winners
Female Athlete of the Year – Makenna Fitzgerald (track)
Male Athlete of the Year – Charlie Conner (basketball)
Ambrose University Award Winners
Female Mel Sylvester Leadership Award – Janessa Parker (soccer/futsal)
Male Mel Sylvester Leadership Award – Carter McLenahan (volleyball)
Female Athlete of the Year Award – Alexa Herrod (volleyball)
Male Athlete of the Year Award – Isaac Gray (basketball)
St. Mary's University Award Winners
Male Athlete of the Year Award – Brock Dewsbery (basketball)
Female Athlete of the Year Award – Andria Stitt (basketball)
University of Calgary Dinos Award Winners
Jake Rushchkowski, soccer
Jaeger White, hockey
Elizabeth Feddema, wrestling/rugby
Stella Rains, volleyball
National Sport School Booster Club Citizenship Award Recipients
Keira Hawkins, Grade 9
Tayte Bilton, Grade 10
Paulina Promcharoenwatana, Grade 11
Ava Rose Luscombe, Grade 12
Calgary Senior High School Athletic Association Award Winners (2022 School Year)
SCHOOL – AWARD – RECIPIENT
All Saints High School—Terry Dolan Memorial Award – Nash Chudyk & Carys Gale
Bishop Carroll High School—Hayley Wickenheiser Award – Zach Pearce & Jenae Navarro
Bishop McNally High School—Don Buchignani Award – Agong Jacob
Bishop O'Byrne High School—Joe Petrone Award – Lauren Del Degan
Bowness High School—Sheila Iversen Award – Grace Florence
Centennial High School—Myrna Empey Award – Paxon Tomie & Tag Layton
Central Memorial High School—John Semkuley Award – Ella Rhyno-Foryth & Aidan Thompson
Crescent Heights High School—Nev Anderson Award – Jess Gilbert Victor Gouttin
Dr. E.P. Scarlett High School—Al Taylor Award – Cale Tapley & Amira Wishah
Ernest Manning High School—Allison Godfrey Bobenic Award – Olivia Huska & Jordan Weston
Father Lacombe High School—Erv Hickie Award – Jennifer Tabbay
Forest Lawn High School—Skip Morgan Award – Alvin Khuu & Hailey Hawken
Henry Wise Wood High School—Lawrence King Award – Dawson Sheehan
Jack James & Alternative High School—John Schellenberg Memorial Award – Ethan Bounds
James Fowler High School—Rob Wright Award – Carson Wong
Joane Cardinal Schubert High School—Joe Massey Award -Kyle Phillipson & Kianna Drewniak
John G. Diefenbaker High School—Sharon Reid Award – Kier Rowe & Javeria Rafique
Lester B. Pearson High School—Bill Mitchell Award – Alyanna Jassani
Lord Beaverbrook High School—Laurie Robertson Memorial Award – Jordy Wright
Nelson Mandela High School—Don Maxwell Award – Paige Breton
Notre Dame High School—Stan Schwartz Award – Courtney Cesarito & Tieso Piscionieri
Our Lady of the Rockies—Bert Joines Award – Taylor Innes
Queen Elizabeth High School—Henry Philip Taylor Memorial Award – Jack Orbaugh & Olivia Zaccagnini
Robert Thirsk High School—Tom Inkster Memorial Award – Charlie Krahn & Brynn Stewart
Sir Winston Churchill High School—Barry Kimick Award – Nick Bazhanov & Lauren Westlake
St. Francis High School—Gary Deman Award – Robyn McLean & Connor Flanigan
St. Gabriel High School—Carol Ericson Memorial Award – Madalyn Smith
St. Martin De Porres High School—Dr. Arlene Mcginn Award – Taylor Klape & Tinashe Masoka
St. Mary's High School—Father Gallagher Memorial Award – Shaelynn Matiasz & Senan Hurley
St. Timothy High School—Leroy Pelletier Award – Holly Moores
Western Canada High School—Al Holm Award – Kiana Wiebe & Quinn Thompson
William Aberhart High School—Kevin Pelehos Award – Adam Hargrave & Kendall Tarhjelm